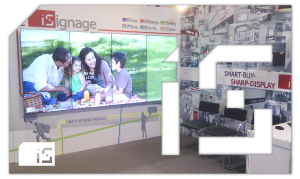 About Us
iSignage is the world's leading provider of digital signage solutions. At iSignage, we do not simply provide our clients with innovative and powerful solutions, but strive to ensure that they come with maximum user-friendliness to ensure the smoothness of their operations from system setup to long term system maintenance. iSignage is a modular digital signage solution which is specially designed and aims to serve different markets.
Our Research & Development department is constantly enhancing our solutions to better serve our clients' needs and the iSignage team of professionals are ready to help our customers to design, build and implement their digital signage project by providing the state of art signage technology in a professional manner


What is digital signage?
In the past, digital signage is a form of electronic display that utilizes LED and LCD monitors and a PC system. Digital signage of today is more than just about content delivery on a display, it is a combination of content distribution and communications across a wide range of industries, and each industry has its own requirement of functionality, scalability and reliability, digital signage customers expect a tailored signage solution to meet their unique business requirement. Digital signage is a flexible, eye-catching and dynamic medium that can display anything from images and videos to scroll ("ticker") messages featuring weather and news updates.

Because of their user-friendliness and efficiency, digital signage systems are found in spaces from business centers and hotels to malls and restaurants all over the world and are only becoming more common.
How iSignage differentiate from our competitors
iSignage differs from its competitors in the following ways:
Software based application system, no proprietary hardware. Customers take control of future support and maintenance more easily.
iSignage know the needs of our customers and understand a successful signage project needs careful planning and solid installation experience to meet customer business goal
Pre-sale and post-sale customizations are possible
Support of multiple screens and display layout
Support of multiple shops and content formats
Support of ticker, CSS feeds, live TV and real time streaming
Flexible role based administration
User-friendly with drag and drop interface
Why companies need digital signage?
1. Capture Your Audience Better
The traditional marketing tools by using lightboxes and posters to display company products and services information is no longer workable, due to its inability to attract viewers' attention in comparison to digital signage. With the introduction of high definition display, the quality of the screen continues to improve and the high definition LCD panels make the picture quality look bigger and better than ever, making digital signs even more attractive.

2. Be More Efficient
Capture Your Audience Better With digital signage technology, any contents can be updated and distributed to various locations in just few clicks, mistakes can be corrected and broadcasted again in minutes, not days or weeks.

3. Move with the Times
Move with the Times Now is an age in which digital signage has become a trend in all industries. There are more and more organizations applying digital signage as their digital advertising and information solution to replace the traditional ones, confirming that there is more change in the digital landscape now than any other time. As digital signage solutions become more and more popular, more and more companies are willing to invest their resources in developing content strategies in them. Generally, companies are cutting their traditional advertising budgets and increase the budgets for digital advertising.